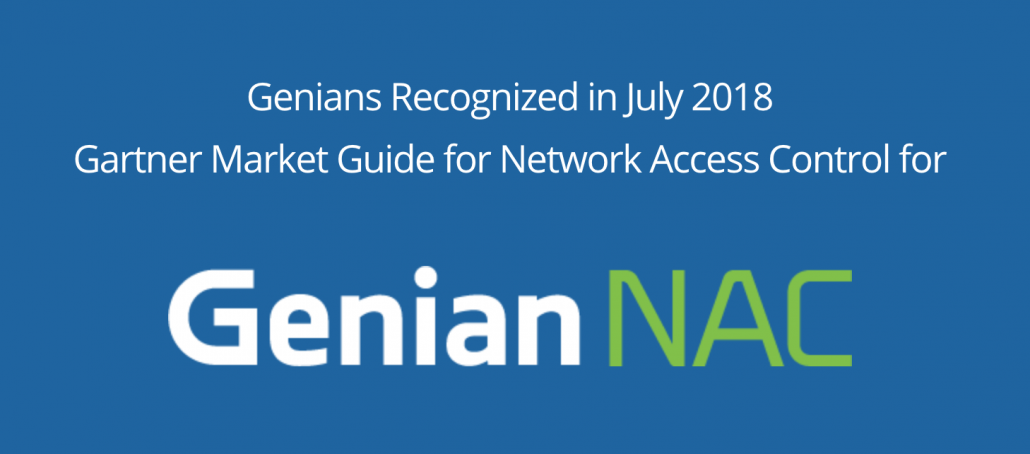 We are very pleased to announce that Genians has just been named a "
Representative Vendor
" in 
Gartner's 2018 "Market Guide for Network Access Control."
 This, of course, marks an important step in our ongoing effort to advance our presence in the global marketplace, something that we can only do with your support as members and active participants in our all-important Partner community.
That said, I'd like to explain how Genians responds to some of the uses cases the Gartner analysts addressed in their recent market assessment.
In this report, Gartner points out, "network visibility continues to be the primary driver for NAC." Additionally, they acknowledge that "IoT is a strong driver for NAC," especially "in the manufacturing and healthcare industry verticals."
Gartner analysts actually went so far as to distinguish Genians as being a "stand-out" in the NAC market for its advanced "device detection capabilities," which as we know it accomplishes by leveraging its "Device Platform Intelligence (DPI)" technology.
Indeed, Genians supports a range of key use cases addressed by Gartner, among them: Visibility, Guest Access Management, Endpoint Compliance, Secure BYOD, Network Segmentation – all of which can easily be achieved without changing or updating an enterprise's existing network infrastructure. Also, Genian NAC can be readily integrated with a wide range of IT security and business solutions (Firewall, IDS/IPS, VM, MDM, SIEM, APT, DLP, CRM/ERP, etc.) to ensure a properly unified and integrated policy enforcement approach. Importantly, Genians provides three different deployment options – On-premises, Cloud-managed, or "NAC-as a Service" – so that our customers are able to choose the NAC approach best-suited to their particular business needs and operational environment.
Beyond focusing on the these benefits, this year's Gartner report addressed the latest emerging use cases presented by the market at large. In particular, Genians is fully prepared now to take on the following challenges:
IoT Discovery: Genians can handle the explosion in demand taking place with regard to IoT device discovery and far more. Via its "DPI" feature, Genian NAC possesses the device intelligence needed to go beyond mere device fingerprinting. It provides detailed, comprehensive technical and business contextual information for all IP-enabled devices – including everything that falls within the realm of "IoT." This includes indicating everything from when a device will be going end-of-life to its specific security profile and business functions served.
Cloud Management:As Partners know, another major benefit is that Genian NAC can be fully delivered through the Cloud. Major IT security and operational features are all included in a single cloud footprint. Simply subscribe to take advantage of a very wide range of critical access control features. These move well beyond simply device discovery to include network surveillance, access control, IP address management, switch port management, WLAN security, endpoint security, security automation, and, course, mobile, BYOD, and guest user management.
IT and OT Convergence: Operational Technology (OT) refers generally to the technologies deployed, typically in industrial and modern society's infrastructure management settings, to facilitate various control processes. Increasingly, OT-based equipment is being migrated from its former, standalone state to one of being IP-enabled and network connected. Converging and integrating OT and IT often requires a "modernization" effort to bring legacy OT systems up-to-date so they can safely be connected to an enterprise's network without compromising overall systems' availability and business continuity. As with all other network-connected devices, Genians is ready today to remove the risk involved in IT/OT Convergence.
Overall, Genians Next-Generation NAC capabilities are able to meet the most stringent security compliance demands in existence. Such capabilities are clearly of particular importance to enterprises of all sizes concerned with meeting their specific compliance requirements.
We hope you find this Gartner Market Guide interesting and useful as you work to increase the size and impact of your Genians Partner business. Please let me know if you have any questions or comments about the report.